Tucked at the foot of the dramatic North Shore Mountains lies one of Canada's most vibrant cities. Although Vancouver is traditionally known for its impressive skiing opportunities only thirty minutes from downtown, the impressively diverse culinary scene and a plethora of distinctive neighborhoods make it an extraordinary place to live.
One size does not fit all in this city. Those looking to relocate or upsize into one of the West Vancouver homes for sale are fortunate to have a variety of communities to choose from, allowing them to select the one best suited to their wants and needs. As you prepare to begin your home search, here are some of the best neighborhoods to consider.
Anmore
A small community in metro Vancouver, Anmore is located along the shores of the Indian Arm. This quiet, peaceful neighborhood is filled with hiking trails and other green spaces to enjoy the outdoors and views of the nearby lake. The Buntzen Lake Regional Park is a local favorite, where owners of Anmore single-family homes enjoy breathtaking vistas of the mountains and sky reflected in the water.
Anmore is becoming Vancouver's answer to the Hamptons as many are flocking here to buy or build multi-million dollar properties. This growing desirability pushes the prices of homes in Anmore higher, and those interested in the area would be wise to invest now. A local real estate agent may be able to help you find pocket listings or secure land to build your own Anmore home, increasing your chance of success when house searching in the area.
Yaletown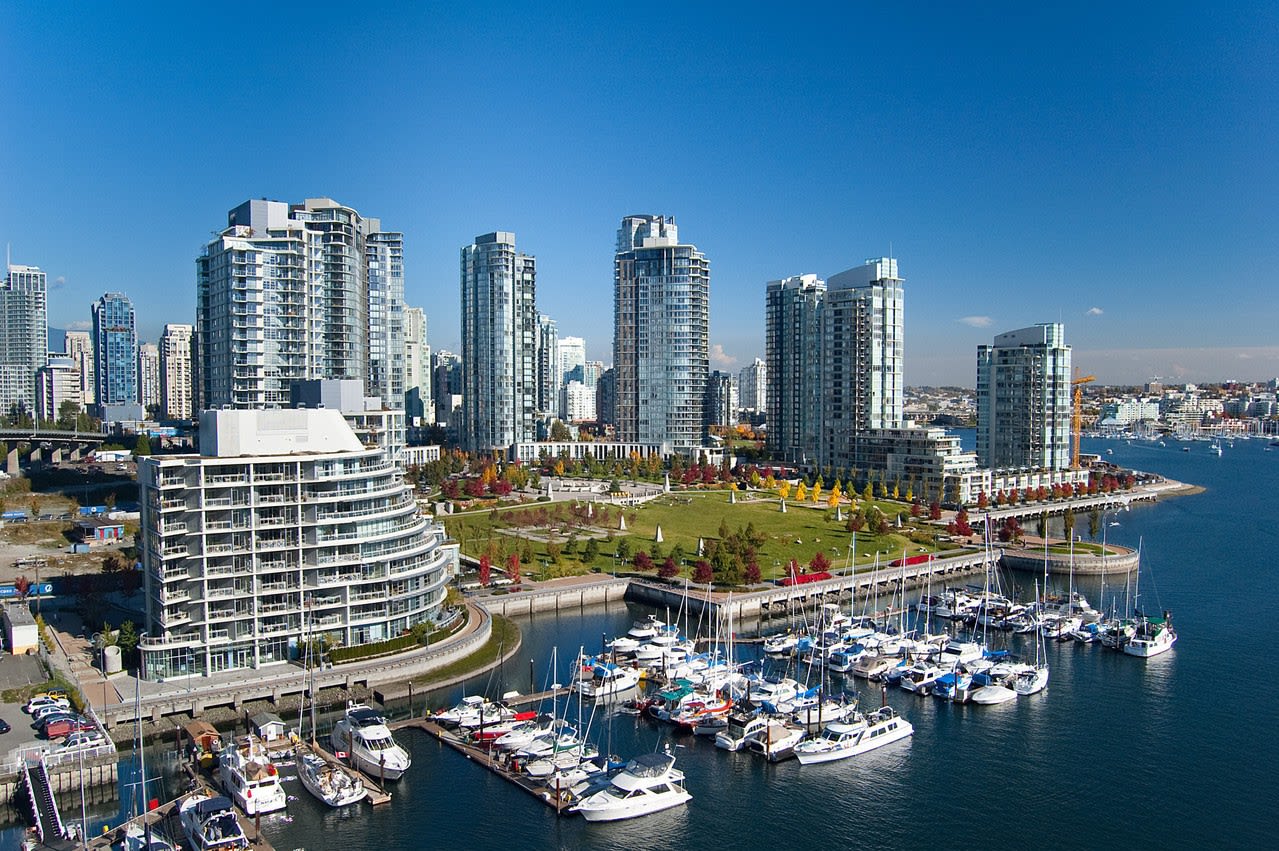 One of the trendiest neighborhoods in Vancouver, Yaletown has a storied history that includes hosting the World's Fair and operating as the western terminus of the Canadian Pacific Railway. Now, it's filled with Yaletown luxury condos for sale, incredible restaurants, boutique shopping, and relaxing waterfront parks filled with public art installations from artists such as George Wainborn and David Lam Park.
The culinary scene in Yaletown is distinct for its many establishments operating in converted warehouses, creating a unique dining experience. Noteworthy restaurants include the destination-worthy Blue Water Cafe, known for their rarefied menu of West Coast seafood, a striking interior, and a remarkable wine list. Brix & Mortar is another Yaletown fine dining establishment, featuring a menu of delectable plates like braised Lamb shanks and local halibut while cultivating a magnificent ambiance in their beautifully decorated 1912 heritage brick building. More relaxed options include the comfort food of Homer St. Cafe and Bar and the Mediterranean delights at Provence Marinaside.
Most real estate opportunities in this neighborhood are single-family townhouses and Yaletown luxury condos for sale. All properties are on the high end, often featuring luxurious amenities and impressive views of the marina and the rest of Vancouver.
Shaughnessy
Those seeking an almost-entirely residential community should consider this neighborhood. Home to an impressive number of heritage houses from the early 20th century complete with gorgeous landscaping, Shaughnessy cultivates a picturesque and serene residential experience.
Located only a short drive from the shopping variety of Point Grey Village and the exciting culinary scene and businesses of downtown Vancouver, Shaughnessy homes are conveniently located. Local highlights include the stunning gardens and children's day camp opportunities at VanDusen Botanical Garden, and the Kerrisdale Community Center which features a public library, fitness center, indoor pool, and other facilities.
Shaughnessy is the real estate gem of Vancouver. Along its tree-lined streets, large Shaughnessy homes for sale come in Federal Colonial, Neo Tudor, and Arts and Craft architectural styles. These estate-like residences are highly coveted and the prices reflect that. In Shaughnessy, residents don't just invest in an incredible piece of property - they buy a piece of the city's history.
Point Grey
Point Grey is home to some of the most coveted real estate in the city, and it's not hard to see why. Nestled on a peninsula between the glittering waters of the Burrard Inlet and the spectacular forests of Pacific Spirit Regional Park, the neighborhood affords unparalleled views of the Vancouver skyline with the privileges of an exclusive community.
One of the city's oldest neighborhoods, locals enjoy the quaint ambiance of a small town coupled with the modern conveniences of a large metropolis. The residential enclave cultivates a quiet, private ambiance, while the nearby Point Grey Village is the main commercial strip of the area. With a plethora of independently owned specialty shops, cafes, restaurants, and other businesses, Point Grey Village offers residents everything they could need with a local charm rarely found in the modern era.
Point Grey real estate is unanimously high-end. Most real estate opportunities are spacious homes on generously sized lots, often accompanied by outdoor decks, chef's kitchens, and other appointments to allow a luxurious lifestyle. Sizes range from two-bedroom condos all the way up to seven-bedroom estates.
Coal Harbour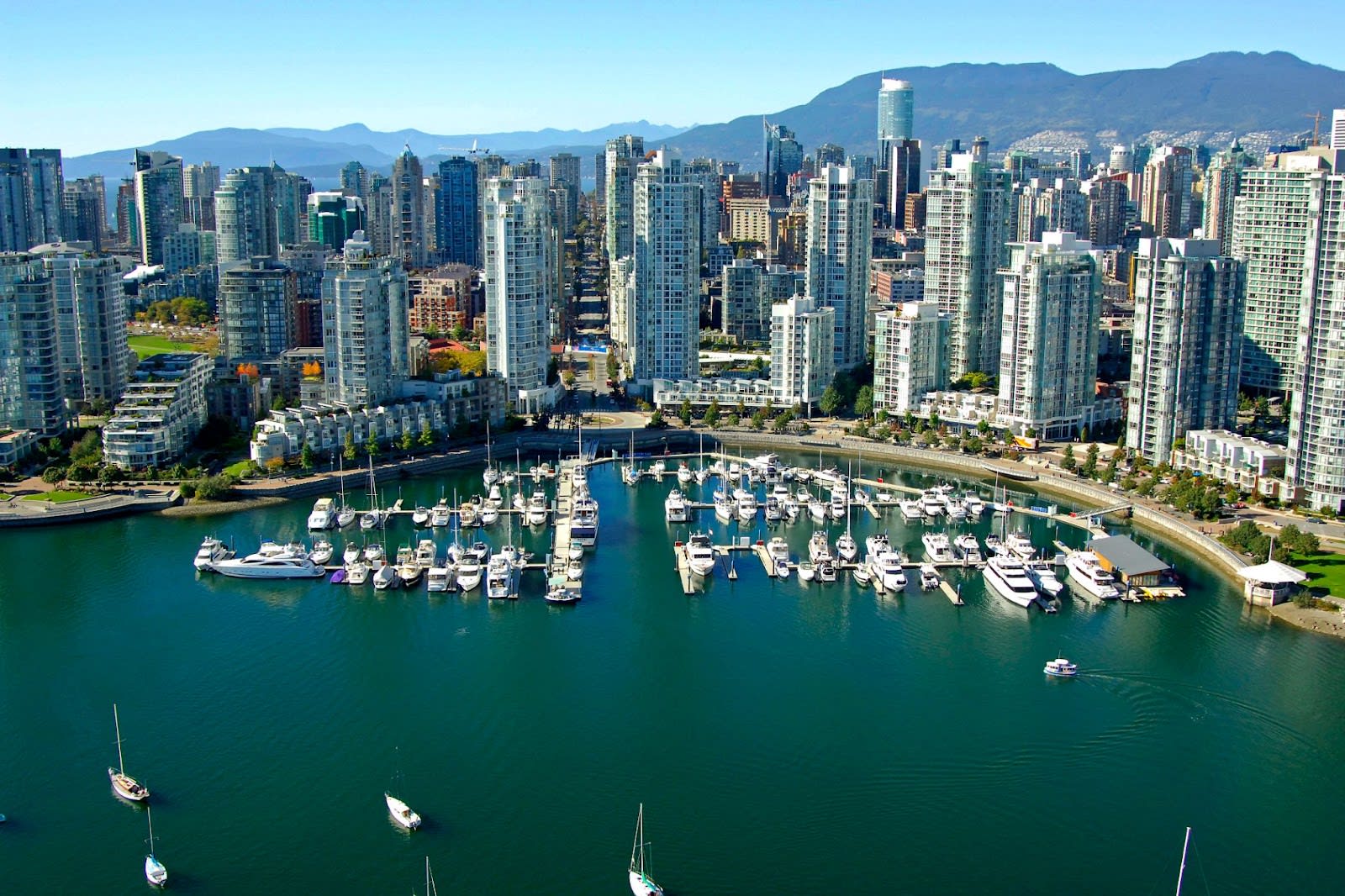 Credit: Marinas.com
Known for its mountain views, marina, and elegant waterfront restaurants, the downtown neighborhood of Coal Harbour is perfect for those drawn to an upscale metropolitan lifestyle. Originating as an industrial shipyard, the neighborhood grew to be one of the most attractive central Vancouver areas it is today.
The area is known for the Vancouver Convention Center, a striking example of contemporary architecture featuring a green roof, public art, and interpretive plaques which detail the area's history. Locals frequent the convention center complex to enjoy the fresh air and watch the boats before heading inland to one of the area's many craft breweries or high-end hotel restaurants.
Coal Harbour offers a diverse range of residential real estate opportunities, including condos with sweeping views of the city and spacious mansions featuring luxurious amenities like outdoor pools, spa-like bathrooms, and smart kitchens.
If you're interested to learn more about neighborhoods in Vancouver or West Vancouver homes for sale, please don't hesitate to contact Amir Miri today.