If there's anything we've learned recently, it's that we should place a premium on designing welcoming and friendly interiors for guests and visitors to our homes. It's hard to overvalue the design of a house, especially when trends are always changing and on the move.

But what are the first steps you need to take to ensure that your home is ready to compete with buyers who appreciate a truly fashionable and inviting interior? Read on for more tips to convert a home from an everyday property to a stand-out star in your neighborhood.
Blend the old and the new
Why decorate your home with just one style when you could incorporate what sparks joy from them all? Right now is the best time to blend the best of the old and the new. So-called "
newstalgia
" is one of the hottest interior design trends of the early 2020s, and it's only getting more and more popular.

Luckily, it doesn't take much to transform a one-tone dining room into a symphony of styles that your guests can't wait to enjoy. Add a touch of marble to a kitchen alongside your newest stand mixer, or surround a colorful abstract art piece in an antique stucco frame. Bring out your retro rug and coffee table from the garage, but this time, use the space to center new art books, a retractable reading lamp, or a minimalist wall hanging. The combinations are nearly endless!
Explore unique lighting
Just a few years ago, lighting and light fixtures weren't as important a part of interior living spaces as they are now. Today, designers are putting all their energy into crafting some of the most exciting innovations in indoor light sources. Sculptural chandeliers, abstract sconces, metallic finishes, and stylish hanging light pendants are all the rage, no matter which room you're in.

Try adding a touch of art nouveau chic to your den with eccentric floral reliefs, or experiment with the Bauhaus style with colored lamps, early 20th-century glass fixtures, or loud geometric forms. Lighting doesn't have to be bold either. Test out more muted lighting options with fixtures made of stone or other organic materials to tone down the ambient lighting to a level that suits your needs. Don't forget the frosted glass and antique accents--these century-old colorways and textures are as cool now as they were in the Jazz age.
Bring green inside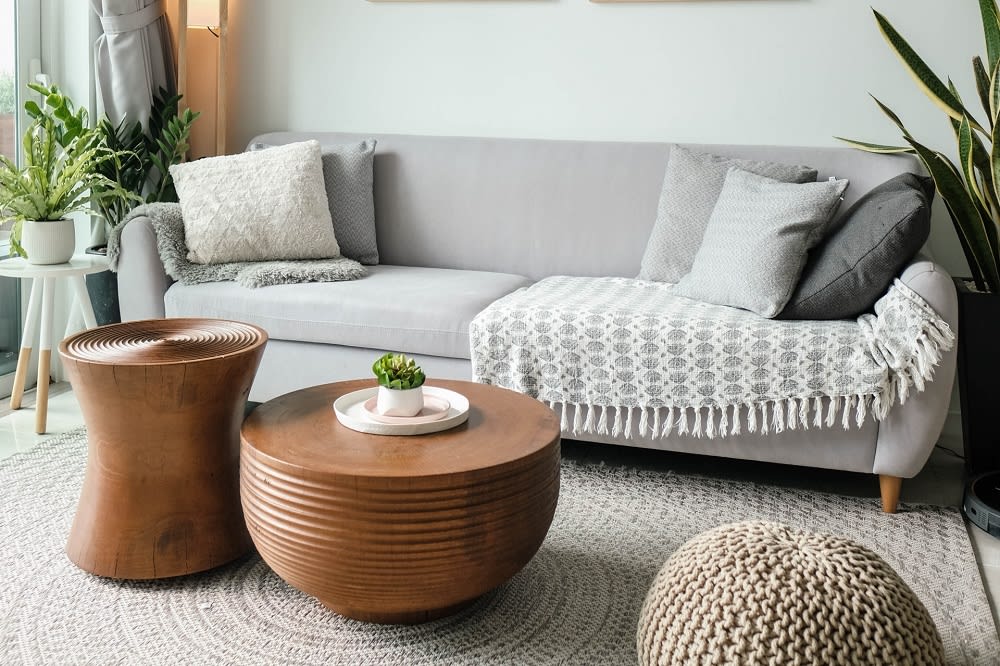 Taking a cue from both Southern European interior design, Eastern tones, and Asian innovation, green interior colors are all the rage right now. Studies have shown the
health benefits
that come from adding green to your home. This color promotes emotional health, eases seasonal affective disorder, and can even lift the negative side effects of depression and anxiety.

Painting walls in cool green hues are easy on the eyes, especially in low-light conditions during winter or in darker areas of the home. Go back to nature, but this time do it from the comfort of a veranda patterned in green wall hangings, a floral wall or curtain, or by potting ferns and annual plants around the parts of the home that you frequent for relaxation and calm.
Curves are back
Take a look at any good interior design magazine or journal, and you're likely to see that furniture, accent pieces, and even doorways and tables are going through a curve renaissance. Softer lines, smoother materials, and more comfortable rounded shapes are one of the most on-trend styles in recent years. Blocks of painterly colors on the walls are another way to soften the edges between rooms and invite guests to move around the home in a comfortable yet elegant way.

This means it may be time to swap out the stark black and white straight-back sitting chairs of yesteryear with plush lounge recliners and more forgiving sofas that enable homeowners to rest and entertain guests from the hip of a chaise longue or semi-circular coffee tables. Arched geometries in your cabinets, ceilings, and windows could be another place to experiment with more relaxed, inviting shapes as well.
Add metallic and jewel-toned furniture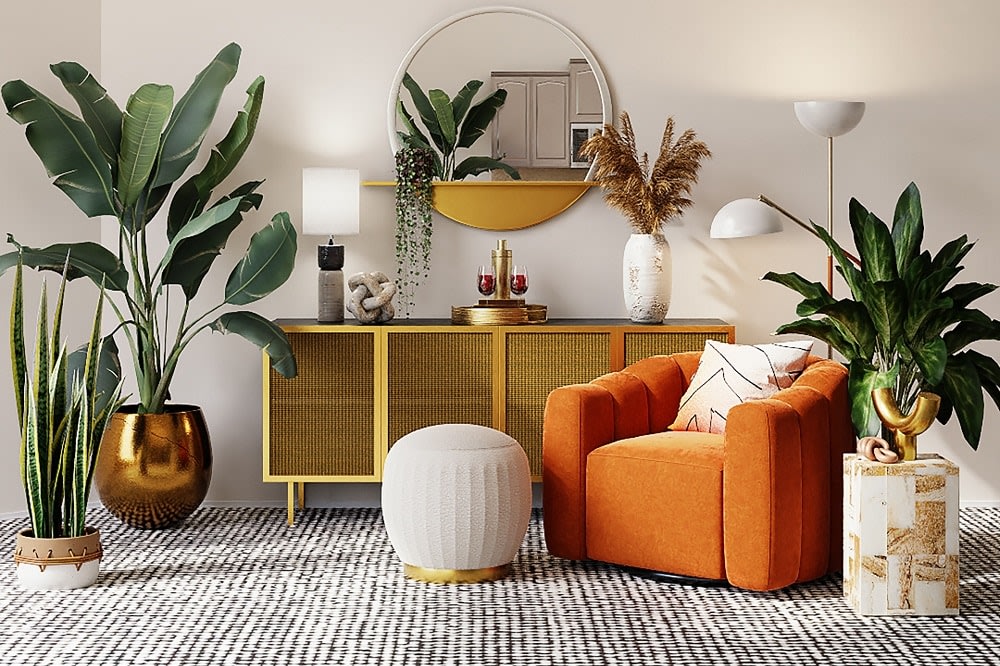 Designers have been spreading the word about the benefits of adding metallic and bold colorations to home interiors for upwards of ten years, and the style has finally caught on—in a big way. Steel, diamond, silver, and gold colorways are some of the most fashionable textures on the market, especially when it comes to accent pieces like throw pillows, dining chairs, coffee tables, and organic accent pieces.
The metallic style is rooted in
Art Deco
, popular over a hundred years ago when the iron and steel figures of the golden age of New York and Paris rose in popularity. Today, metal and jewel-encrusted couches, cookware, wall hangings, and bedding patterns are attracting worldwide attention, and it doesn't take much to add a touch of this iridescent and geometric style to your favorite communal spaces.
Spend time on the floor
All around the world, we are arguably living in the heyday of brand-new carpeting and flooring options for all types of homes. Whether you opt for a statement piece to cover the floor in a dining room, hall, or deluxe bedroom, a rug or runner can do wonders to bring your house into the 21st century. Saturated violets, forest greens, warm ambers, and wheat colors are just a few ways to add that third dimension to your flooring and upgrade a so-so room to a centerpiece in a flash.
Try old-school materials in stone and clay
Just as the metallic Art Deco style is gaining ground in popularity with interior designers all over North America, even older styles in stone and clay are just as forward-thinking today as they were hundreds of years ago. The difference? Modern stonework highlights the living, moving, textural tones and patterns of our ancestors. Natural hues in tan, mauve, gold, and brick red invite guests to touch and interact with their living spaces at a whole new level of intimacy.

Molded table forms, sculptural tables and seating arrangements, indirect lighting, and the organic shapes of the human body are the most influential ways that this ancient style is driving interior design both forward and backward in time. Rough-hewn bowls, unfinished wood floors, fired clay, and fresh earth colors appear in some of the most popular homes, from Vancouver to Beijing and Los Angeles to London.
Get seriously sustainable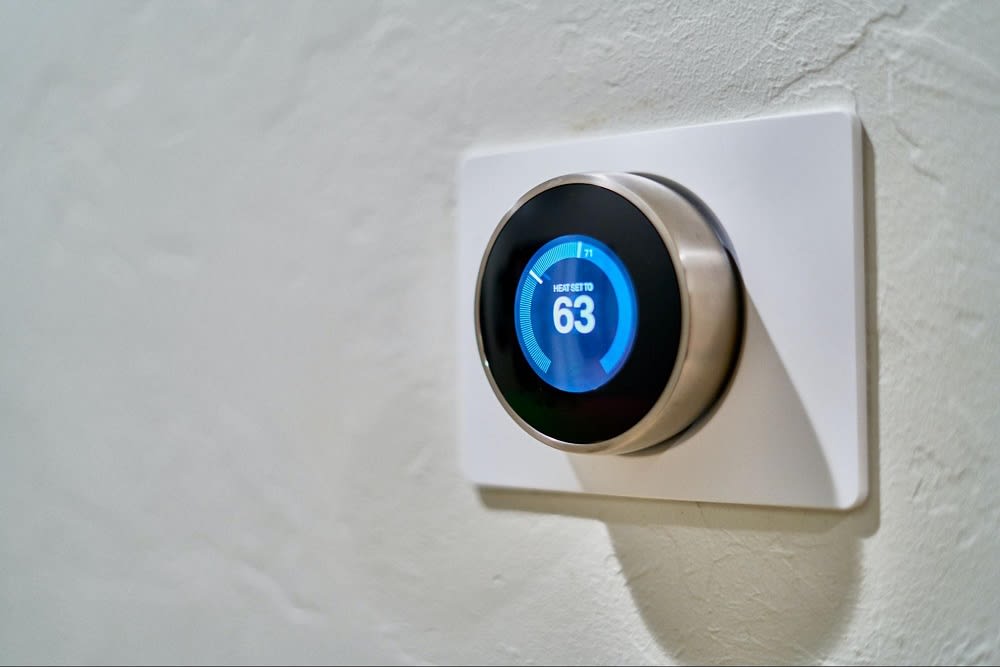 Living sustainably can sometimes be a daunting task for homeowners. Yet a
recent study
shows that over 62% of homeowners are still committed to upgrading their properties to help out with environmental issues. Decades ago, adding solar panels or ambient lighting to your favorite rooms meant installing bulky appliances and machines that were distracting eyesores. Today's designers are exploring more minimal and softer methods to make your homework for you.
Smart home technologies
like regulating thermostats and energy-efficient windows are only getting more and more simple to add to your home.
Mix and match colors
For years, home designers have gone back and forth on the topic of color. In the nineties and early 2000s, grays, stark blacks, and whites were in vogue, and the color palette shifted towards muted hues. Now, interior design is much more inviting to homeowners who are interested in experimenting with all the colors of the rainbow.

Whether it's testing out a moody combination of jewel hues, blended colorations, or deep and dark accents, the way is open for you to explore new backdrops that speak to your own style.

Try velvet textures, coral and bright yellow golds, shiny palettes, or even rustic browns and bold wood colors to liven up those corners of the home that may have gone overlooked for years.
Go classical
If there's any maxim about interior design that's as true today as it was centuries ago, it's that classic style doesn't go out of style for long. Some of today's most adventurous designers are stepping back into the past to explore our present moment. Vintage classical busts and cabinets, Louis XIV chests of drawers, fluted woodwork, and seating with long legs and conservative decoration are all making their way back into the repertoire.

You can make the classical your own by painting antique furniture in verdant greens or trading out gold fixtures with reclaimed marble. But don't overlook the carpet, wall fixtures, or shelving—even in the details, adding a classical touch is all about less is more.
Reach out to a local real estate agent today
Are you eager to explore more about the best ways to design West Vancouver, North Vancouver, Anmore, Shaughnessy, or Point Grey real estate and draw in more potential buyers? Turn to
Amir Miri
for all the resources you need to take your interior design to the next level.