Do you plan to buy or sell homes in the Vancouver area in the coming months? One of the best ways to ensure your buying or selling process goes smoothly is to work with an experienced West Vancouver real estate agent. Those who are buying or selling homes in the luxury market of $1 million or more need to take special care to work with an agent who is experienced in representing luxury buyers and sellers.

This is where Amir Miri, the primary agent in the Amir Miri Personal Real Estate Corporation, can help. Amir's family background in real estate, as well as his years of experience, make him a top pick for those who need to buy or sell luxury Vancouver properties. Read on to learn more about Amir and the properties he represents.
All About Amir Miri
Amir grew up in a family of interior designers, architects, and real estate investors, which has helped him gain a deep understanding of the local as well as the global real estate industry. He focuses on continually improving his knowledge and real estate education, so he can commit fully to his clients' needs both in Vancouver and around the world. In addition to his expert knowledge, Amir has also developed first-rate negotiation skills, so he can net his clients the best deals on their property purchases or sales.

Though Amir can help anyone from first-time homebuyers to professional investors, his unique background makes him especially suited to working with global luxury clients. He holds dual Bachelor of Arts degrees in Hotel Management and Tourism from Manchester Metropolitan University and IMI University in Switzerland, and he has spent time working in exclusive luxury hotels -- such as those in the Starwood Hotel Group and the Four Seasons. He has worked in Switzerland, China, Dubai, Canada, and Iran, and he was able to develop language and customer service skills that are unmatched in the industry.

Amir is an avid football fan and loves animals almost as much as he loves people, and he always makes a point to treat his clients as if they were members of his own family. This personal approach to real estate, paired with his attention to detail and finely honed business skills, makes him a natural choice when it comes to selecting a luxury agent.
Current Listings Represented by Amir Miri
Interested in North Vancouver luxury homes or high-end property elsewhere in the city? Read on to explore some examples of homes Amir Miri is currently representing.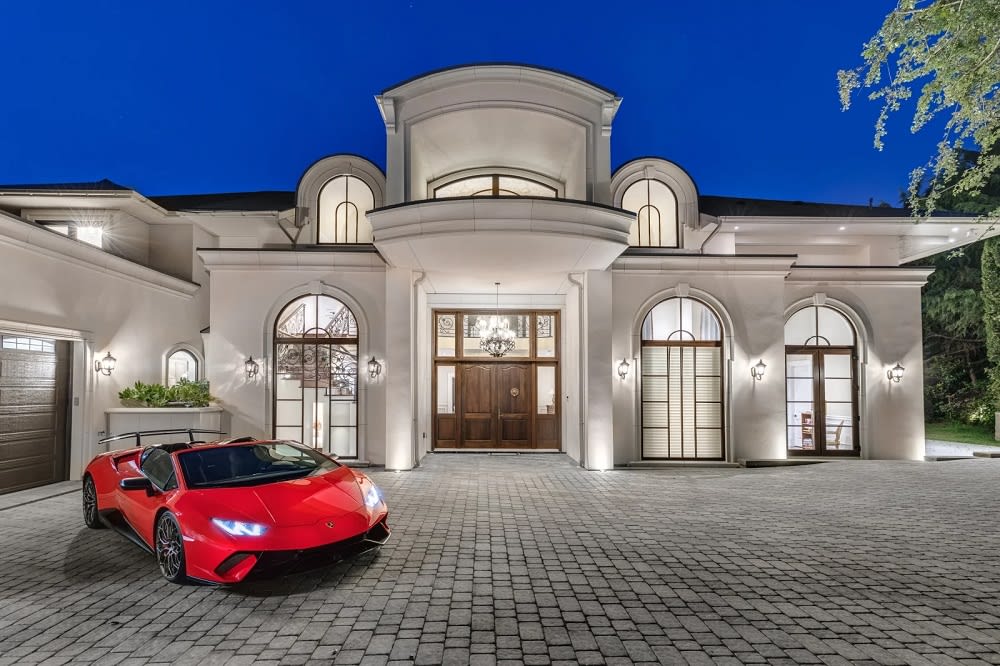 4313 Rockridge Road, West Vancouver

With views of the ocean as well as Point Grey, Stanley Park, and Kitsilano, this $7.198 million home has five bedrooms and seven baths and was designed by architect Fritz De Vries. This stunner has almost 6,000 square feet of open living space, an outdoor pool and spa, a chef's kitchen, and floor-to-ceiling windows. Additionally, this luxury home is within walking distance of coveted Caulfield Elementary and Rockridge Secondary schools and is just a short drive from nearby attractions like the Eagle Harbour Yacht Clubs and Cypress Mountain Ski Resort.

276 Sandringham Crescent, North Vancouver

Located in luxurious Marlborough Heights, this seven-bedroom, seven-bath home features exquisite views of the mountains and the water from a 960 square foot rooftop deck. The lower level boasts a dry sauna, wet bar, theatre room, and a two bed, two bath legal suite—perfect for those living with in-laws or college-age children. This luxury home is highly ranked in comfort and functionality, and it is listed at $4.498 million.

2430 Palmerston Avenue, West Vancouver

Enjoy panoramic ocean and city views from this four-bedroom, four-bathroom home located in a quiet cul-de-sac. The $4.218 million home was custom built in 1985, and it has since been thoroughly updated. It's located within walking distance of schools and Dundarave Village, so this extremely well-maintained home is perfect for families and young professionals who plan to start a family soon.
Sold Homes by Amir Miri
Amir has sold homes in price ranges from $369,000 all the way up to $12.8 million, proving he is truly a West Vancouver real estate agent who can help clients in all stages of life. Below is a snapshot of a few of his recent sales.

1437 Chippendale Road, West Vancouver

Amir recently sold this fully renovated five-bedroom, seven-bathroom home in West Vancouver for $8.98 million. The home spans more than 6,000 square feet and sits on a 12,000 square foot lot, complete with a heated driveway. This home is a true showpiece in Amir's "sold" collection with three-story ocean views and unique stone and iron artwork throughout.

2320 Palmerston Avenue, Dundarave, West Vancouver

With ocean views on all levels and a design by Michael Cassidy, this five-bedroom, six-bathroom home featured an enormous patio, a central show kitchen as well as a wok kitchen, and an impressive master suite. The perfect home for entertaining, this beautiful home also had a game room, wine bar, media, and recreation room situated in the lower levels for easy entertaining.

775 Westcot Place, West Vancouver

This enormous eight-bedroom, eight-bath home was sold for just a little under $5 million and featured four fireplaces, a security system, and a functional layout perfect for a large family. The south-facing lot, granite countertops, and high-end kitchen with a pantry, wok kitchen, and luxury appliances made this an easy choice for the lucky new homeowners.
Amir Miri prides himself on serving those who want to buy or sell West Vancouver real estate with the highest level of expertise and customer service. His personalized attention, years of experience, and impressive background in the business world uniquely position him as a global luxury agent in the Vancouver area. If you are ready to take the next steps toward buying or selling homes in the Vancouver area, reach out to Amir for expert guidance and assistance.